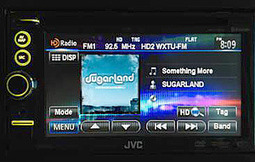 Quu Interactive is now an investor in Jump2Go, and has obtained the exclusive license to that company's JumpGate RDS and HD Radio offerings.
The two companies have big plans; they promised to "embark on a joint project to revolutionize radio advertising exploiting Radio Data Systems and HD Radio technology."
hey offer a messaging system for radio that enables music, program messages and advertising on RDS- and HD Radio-enabled receivers. Quu's Radio Text system allows specialized ad messages to be presented on radio displays; its "Advertiser Experience" is an iteration of the HD Radio Artist Experience and adds images to ad text on HD Radio displays.