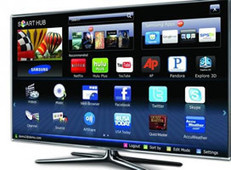 USA Today reports web radio apps landing in consumers' living rooms inside "smart" TVs, video game systems and Blu-ray players...
...And even if consumers don't necessarily buy a "smart" TV or Boxee Box for Internet radio services, they will be exposed to apps from Pandora, TuneIn Radio, Last.fm, iHeartRadio and others...
...Finally, it's not just on the TV that web radio and streaming music is making in-roads with mainstream consumers. The New York Times reports today on a wide range of stereo devices ready to stream music from Internet radio and other web services...