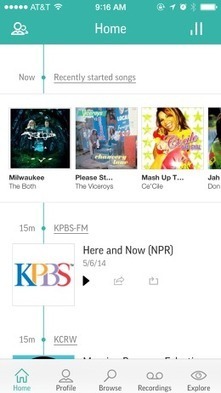 With today's redesign, TuneIn's mobile app becomes a social network in its own right.
TuneIn, which offers access to over 100,000 radio stations and 4 million podcasts, is getting a complete makeover to address some of its biggest pain points. The app is essentially going from a simple audio search engine to a social network on par with Facebook or Twitter.
"One of the pain points we certainly realized was that we've gotten to 50 million monthly active users and we've never had a single viral feature," says CEO of TuneIn John Donham. "Maybe it's time we figure out what that looks like so users can share with other users what they're finding on the service."
The redesign will take all its existing users and their saved favorites and transform them into followers and items to follow. The goal is to try and take 50 million passive users and transform them into engaged ones. But how does that work? More importantly, can a company with this many users pull it off?