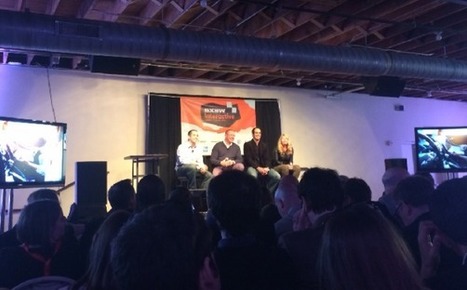 The cars of today, and especially tomorrow, generate rivers of data that will change everything from how meteorologists understand the weather, to how towns identify their most egregious potholes, to — our favorite — how people will listen to music in the car.
Over half of all music listening takes place in the car, according to Pandora senior vice president of strategic solutions Heidi Browning, speaking at Friday's jam-packed "Internet of Cars" panel at SXSW. Those cars are starting to generate as much as 25MB per hour, according to Team Detroit executive creative director Scott Lange, who described the car as "the biggest wearable," adding that it "leaves a trail of ones and zeros behind it."
Some of this data — like whether the windshield wipers are running or not — can be used on a massive, aggregated level to understand where it's raining with more real-time granularity than has ever been possible. Likewise, windshield wiper activation could inform which music your car plays for you, picking genres or tilting playback one way or another within your artist stations.
"If you're in the fast lane, let's say, we could play you some hardcore rock 'n roll — or maybe some country music to slow you down a little bit," said Pandora's Browning, adding that while the possibilities are fairly limitless in terms of the sort of data-driven features that can be added to car music, consumers will decide whether they're actually worthwhile. The two most requested features from the connected car, according to a study conducted by the company, are navigation and internet radio — so the demand is definitely there, even if it's less clear which of these more ambitious features will stick.
As another example, cars might select music based on where the driver's seat is located (as a way of determining which family member is driving), according to Sefi Grossman, vice president technology director for Team Detroit. He thinks drivers might subscribe to their own car settings, allowing them to turn any car (a zip car, a rental car, a borrowed car, etc.) into their "own" car, at least where the listening and other preferences are concerned.