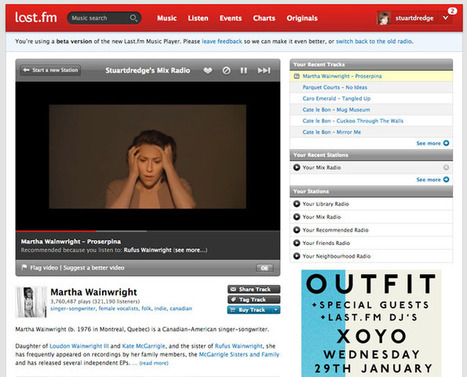 It emerged yesterday that a new beta version of the Last.fm Music Player has gone live, using YouTube to play music (with videos) rather than the site's own player.
"Ever wondered what radio would be like with video?" asks a prompt on the site encouraging users to try the new version. Although from a business perspective, it's more about wondering what a personal radio service would be like with YouTube absorbing the licensing costs.
Plenty of work to do for a comeback, then, but it's worth noting that if Last.fm was launching in its current form today, as a YouTube-scraping personal radio service with big-data features in the background, it'd be all over the tech blogs as the Next Big Digital Thing.
While its recent history (including criticism of CBS' stewardship of the site) can't be ignored, Last.fm's latest evolution will be worth watching over the coming months. But the usual questions apply: how will the new version be marketed to bring back old users and attract new ones; and is there a successful business model in YouTube-powered personal radio?
Via
Simon Decreuze