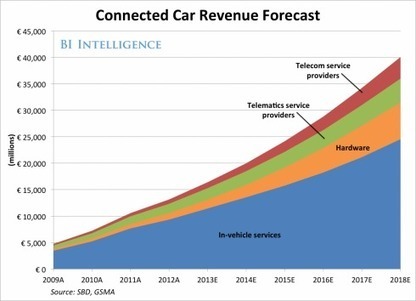 Internet-connected cars represent a new frontier for mobile software.
Perhaps the greatest potential for popular smartphone or tablet software and services is not in household appliances like TVs and refrigerators, or in wearable devices like wrist watches, but in cars.
To state the obvious: Cars are inherently mobile. Additionally, many of the activities people do in their cars — listen to music, look up directions — mesh nicely with popular app-mediated activities on mobile gadgets. Americans spend an average of 1.2 hours a day traveling between locations and American commuters spend an average of 38 hours a year stuck in traffic. If mobile apps and Internet-based services can shoehorn their way into the in-car environment, that means a great opportunity to expand their ability to engage consumers, absorb their attention, and gather data.

Read more: http://www.businessinsider.com/the-future-of-internet-connected-cars-2013-10#ixzz2iAFzxzlO