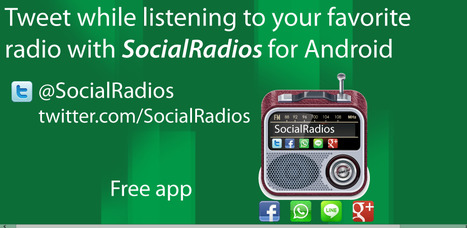 The Spanish company SPOTI SL has created SocialRadios, a free application for Android platform that allows users to listen live to the main radio stations and also tweet what they like about the programs they are hearing.
Operation of the app is simple and only requires two clicks: with the first click user accesses the channel and the program he is looking for; with the second he will configure Twitter and next comment on what they hear and share with other listeners of the channel.
The idea is to create a "globalized social radio for Android", as its founder called "arose from the intention to help in these difficult times radio stations to get more audience, especially social audience. The latter is more difficult to monetize, so that their managers do not spend much time. However, we consider both fundamental, both have traditional audience as social audience ".
The SocialRadios business model is, therefore, explained the spokesman, to "provide social audience with sponsored tweets in the medium term".
For now, the app acceptance by users is good. Its founder says it gets about 100 users a day on Google Play.
Although currently only available for Android, after summer SocialRadios team expects to launch the iOS app.
For more information
Search 'SocialRadios' on Google.
Visit: http://twitter.com/SocialRadios
SocialRadios on Google Play: https://play.google.com/store/apps/details?id=com.spoti.socialradios