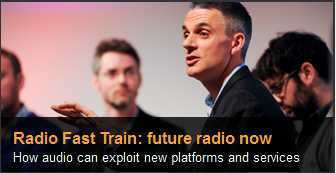 This is a recording of a masterclass from the BBC Academy's Radio Fast Train event held on 7 February 2012.
Tim Davie, director of BBC Audio & Music, is joined by a panel of guests to debate how audio can exploit new platforms and services. Do online sharing services challenge the future for traditional broadcasters? Does digital split the audience or create greater opportunities for audio producers?
Answering these questions are radio futurologist James Cridland, Ben Fawkes from audio sharing service Soundcloud, Chris Maples of Spotify and Nicky Birch from indie Somethin' Else.