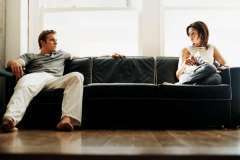 Want to make those inevitable fights with your partner less troublesome? A spritz of the "love hormone" oxytocin could help, by encouraging cooperation in men and making women behave more approachably, a new study suggests.
The hormone may also help people read social cues more accurately, according to a second study in the same journal, Social Cognitive and Affective Neuroscience. That suggests oxytocin may not only ease social interaction, but that the hormone could also someday help people with socially impairing conditions like autism interact with others.
Oxytocin is a complicated character. It's commonly called the "cuddle chemical" — the brain chemical is involved in orgasm, social bonding, pregnancy and breast-feeding — but in other circumstances, it has the opposite effect, increasing aggression against outsiders or spurring distrust and rejection rather than affection in some people who have had difficult childhoods.
The two new studies illuminate the nuanced effects of the hormone: in the first study, researchers found that oxytocin had opposing, but complementary effects on men and women in romantic relationships, who were given a dose of the drug before discussing a contentious point in their relationship. When both people got oxytocin, their conflict resolution improved.
The authors suggest that the variation corresponds to the different ways men and women tend to respond to stress. Men are more likely to go into fight-or-flight mode, which raises arousal and makes them prone to approach, while women typically engage in a tend-or-befriend" strategy with calmer physiology, which makes them more approachable. In its role in facilitating bonding between couples, therefore, oxytocin may tune the stress system to generate the best response from each gender in order to reduce conflict. The authors write that oxytocin "may have driven quiescence in women and…'approach' behavior in men."
Read more: http://healthland.time.com/2012/08/14/how-a-squirt-of-oxytocin-could-ease-marital-spats-and-boost-social-sensitivity/#ixzz23eFufQzx