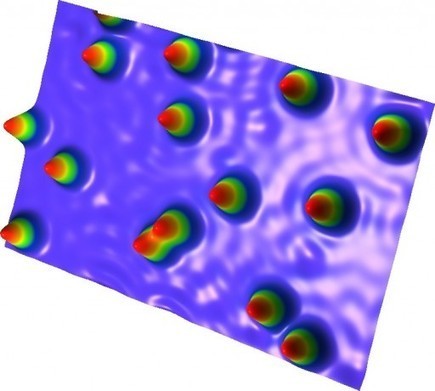 Karlsruhe Institute of Technology (KIT) researchers have taken a big step towards miniaturizing magnetic data memory down to a single-atom bit: they fixed a single atom on a surface so the magnetic spin remained stable for ten minutes.
"A single atom fixed to a substrate is [typically] so sensitive that its magnetic orientation is stable only for less than a microsecond," said Wulf Wulfhekel of KIT.
A compound of several million atoms has been needed to stabilize a magnetic bit longer than that. That's because the magnetic moments of these atoms are normally easily destabilized by interactions with electrons, nuclear spins, and lattice vibrations of the substrate.
The finding opens up the possibility of designing more compact computer memories and could also be the basis for quantum computers, Wulfhekel said.
In their experiment, the researchers placed a single holmium atom onto a platinum substrate. At temperatures close to absolute zero (about 1 degree Kelvin), the atom was nearly vibration-free. They measured the magnetic orientation of the atom using the fine tip of a scanning tunneling microscope. The magnetic spin changed after about 10 minutes — "about a billion times longer than that of comparable atomic systems," Wulfhekel said.
Reference:
Toshio Miyamachi et al., Stabilizing the magnetic moment of single holmium atoms by symmetry, Nature, 2013, DOI: 10.1038/nature12759
Via
Dr. Stefan Gruenwald