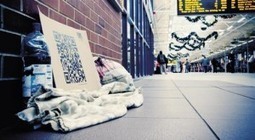 Simon on the Streets, une oeuvre de bienfaisance britannique, a utilisé, ce Noël, des QR codes pour lever des fonds. Beaucoup de personnes donnent des biens ou de l'argent directement aux sans abris qui l'utilisent malheureusement parfois pour acheter de la drogue ou de l'alcool.
Ces QR Codes ont été imprimés sur un simple carton et placés à côté de couvertures, de sacs à provisions et des bouteilles : des objets représentatifs d'une personne qui mendie.
Une fois flashé, le QR Code renvoie vers un JustGiving pour faire un don à Simon on the Streets. Une superbe initiative qui modernise la communication des œuvres de bienfaisance et renvoie le Téléthon à l'âge de pierre !