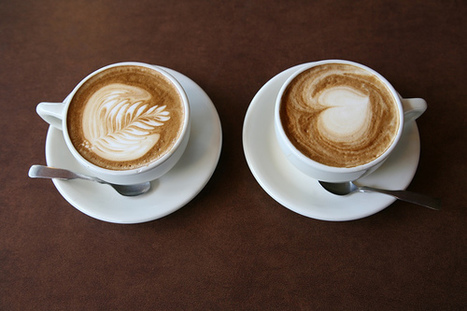 Drinking coffee in Italy is a quite different experience from drinking coffee in many UK coffee shops. In Italy, first you go into a bar — "bar" in Italian doesn't really have a direct translation into English, as it's not the same thing as British pub, although they do have large and impressive counters — the bar itself. The person behind the bar is called a barista, which is Italian for "barman". The barman is normally casually dressed. Assuming you want a coffee rather than food, you ask for a coffee in Italian which is, of course, the local language. The barman will turn around, fiddle with the coffee machine for a moment or two, give you a coffee and then take the 1 euro or so that is the normal charge. Most people drink this at the bar, without sitting down.
In the UK, you enter the coffee shop experience; the shops are often quite large, and involve sofas. The shop assistant is not a shop assistant but a "barista" which is not English. Baristas are, of course, trained and have the stars on their name badge to show it. You will ask for what you want, which you will describe also not in English, such as a "skinny, grande latte" which is Italian for, well, actually very little. The barista will fiddle with their machines for several minutes — thump, thump, thump to clean the old grounds, tsch, tsch, tsch to create the new, clunk, clunk clunk — pssssss, ahhhh. The coffee will then be served, often with a sprinkle of chocolate patterned with a pleasing corporate logo. You will give them the 3 pounds which is the normal charge. They will stamp your loyalty card.
The coffee will fail notably to taste any better than in Italy.
The reason for all of this fuss is called market segmentation: in the UK, coffee is a luxury experience; in Italy, it is a drink. You need all of this additional fuss to validate the price that you are paying; otherwise, you would feel like you were being ripped off. The irony, of course, is that the fuss does cost to provide, so then the price goes up even more. In the UK, I rarely drink coffee, which is a pity as a coffee (or espresso as we like to call it here) is quite nice in the morning.
My experience with academic authoring and publishing is rather like this. The process is surrounded by an enormous amount of mystique and hard work which adds relatively little to the process, but whose purpose is to convince the author that it is all really important, and well worth the cost (either 1000 pounds or copyright assignment which ever is the case), and time.
So, which parts of the publishing process do not actually make the coffee taste any better?