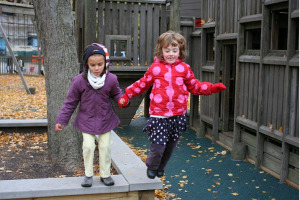 Last spring, there was a minor outcry when the Auburn School District in Maine announced that it would be piloting a one-to-one iPad program with its kindergarteners. Part of the uproar involved the cost of the program — some $200,000. But much of it involved the notion that somehow young children should not be exposed to technology, that somehow iPads and other gadgets inhibit their imagination and make them play less — or, to slightly modify one of Apple's famous logos, to "play different."
But is that really the case? Has technology really dampened the way children play?
A new study (PDF) of children's playground games and songs suggests that much of the outcry about declining kids' play may be exaggerated ...