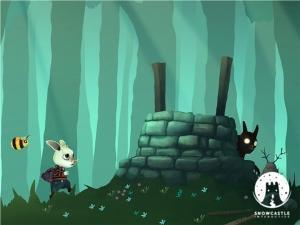 Publishers are driven to explore new avenues of storytelling, perhaps largely because the profits from old avenues are drying up.
As I've said before, text-only e-books are ripe for piracy to a point that makes selling them seem like a foolish endeavor. You can download thousands (yes, thousands!) of text versions of books in an hour. To make themselves marketable the creators you see above are telling stories in ways that enhance text as much as possible (when they don't simply leave it behind).
These are studios, not publishers, making apps, not e-books. The change in terms isn't trivial. In order to survive the death of print, some storytellers are giving up the trappings of the medium. Sad? No, far from it. There will always be those authors that stick to text, and I'll be glad to read them. But there will also be many new creators that want to explore these new ways of storytelling.
Even better, because these new kinds of app-books are as much watched as they are read, as much played as they are listened to, the people who tell these stories should find themselves able to move between media more easily. Write a video game, create an app, or script a movie – the lines are blurring so much that creating one is going to be pretty much like creating the others.
It's an exciting turning point in storytelling, and you, the reader are going to be asked to do more and more. Imaginations and fingers ready – it's time to see what the next step in touchscreen reading is all about ...
Via
Sam Gliksman