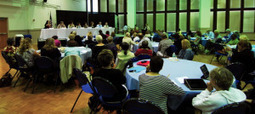 Roxie Munro: "I presented several programs last week at the 21st Century Nonfiction Children's Conference at SUNY New Paltz (June 14, 15, and 16). Lionel Bender and Sally Isaacs did a terrific job. It was perfectly organized…from the programs, to the venue, to the timing of everything from intensives to workshops to critiques to the social time built in. Exceeded my (rather high!) expectations.
Okay. So what's the overview?
Read more on Roxie's Blog ...