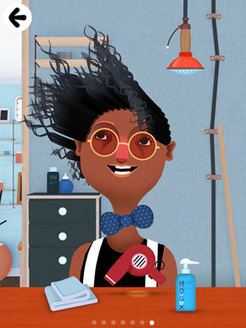 In ev'ry job that must be done
There is an element of fun.
You find the fun and snap!
The job's a game.
In the 1964 musical film "Mary Poppins," all it takes is a snap of the nanny's fingers and the toys march into the toy box, the clothes fold themselves, and the covers ripple up the beds. What the song argues, and the movie fails to show, is that for kids housework is indeed a game. My daughter likes nothing more than emptying the dishwasher (and then wheeling the lower basket around the room); my son stole the mini-broom from me almost every time that I took it out. Toca House, an iOS app from the Swedish digital play studio Toca Boca, understands the fun of these adult jobs ...