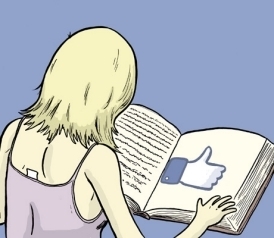 The writer Emma Straub has 9,192 Twitter followers. That might seem like a lot for an author whose first novel, Laura Lamont's Life in Pictures, hasn't even come out yet. But Emma Straub is really good at Twitter. She's funny and charming and evinces great enthusiasm for the books and stories of the fellow authors and critics in her social sphere. Outside of Twitter, Straub writes for many bookish publications, she's the daughter of the novelist Peter Straub, and she runs a small design outfit with her husband that's made posters for everyone from Passion Pit to Jonathan Lethem.
The other day, Straub posted a picture of herself wearing a big flowery crown and holding a hot-off-the-presses copy of her new novel. She signed the post, "Yours, in love with everyone, Emma." On Twitter and Tumblr, the news was RT'd and Liked and responded to with great excitement by friends and fellow writers and fans, including the Twitter feed of the literary website the Rumpus; followers of Straub on Facebook know that the site has already picked the book for their monthly book club.
But let's say you're part of this web of writers, fiction-lovers, literary editors, and readers in the social-media world, and you're assigned a review of Laura Lamont's Life in Pictures. What if you don't like it? Or what if you like it, but not unreservedly? Are you willing to say so? Would you be willing to critique Straub's novel after watching her life scroll out on social media over the last year—indeed, after likely being the recipient or admirer of some small word or act of kindness on Straub's part? ...