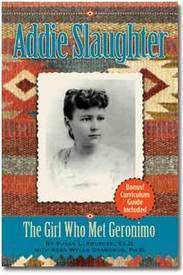 Children Won't Believe What Addie Slaughter Did
(ARIZONA, December 13, 2011) – Today's students can hardly believe children like Addie Slaughter, who grew up in the Wild West of the late 1800s, lived during such exciting times – and survived to tell about it! But Addie Slaughter: The Girl Who Met Geronimo, an official AZ Centennial Legacy Project and finalist for ONEBOOKAZ, will convince them. Students in fourth through seventh grades – and their teachers and parents – will enjoy this true story of Addie, daughter of Texas Ranger John Horton Slaughter, a cattle rancher and famous sheriff of Tombstone for several years starting in 1886. The book is told in Addie's own words, based on stories she told her daughter, Adeline Greene Parks.
Author Susan Krueger, Ed.D., designed the book especially for fourth through seventh grade students because, she said, "There are so few books written for young people in language and tone that they can appreciate – not only the history but the love of reading." As a teacher and reading specialist in Holbrook, Flagstaff, and Phoenix public schools, Kruger spent 32 years matching students with books to promote reading and delivering information in a way they understood.
"In this book I wanted to show young readers that history is anything but boring," Krueger said. "When told with passion and realism, history is exciting, inspiring, and captivating."
When Kruger visited the Slaughter Ranch on the Arizona-Mexico border some years ago, she met Reba Wells Grandrud, Ph.D., historian of the John H. Slaughter Ranch. After hearing Grandrud tell stories about the life of the Slaughter family and describe episodes that were part of Addie's childhood, Kruger knew she had a story that young people could enjoy. The result is a book authored by an educator/storyteller assisted by the research and detail of an historian.
The adventurous, sometimes heartbreaking, story tells of Addie's trek across the Wild West from Texas to Arizona to Oregon, eventually settling on the Slaughter family ranch in the San Bernardino Valley. Along the way, her mother dies; she narrowly escapes a stagecoach robbery; her grandfather is rescued when their adobe ranch buildings collapse in an earthquake; her father's earlobe is shot off during a gunfight; and Addie meets the fierce warrior Geronimo, who gave her a gift. In her own voice Addie talks about rattlesnakes, outlaws, blizzards, Indian attacks, and smallpox – all part of her life, most occurring while living on the family ranch near Tombstone.
Grandrud began her research on the Slaughter family in 1983 while working with Gerald A. Doyle and Assoc., the architectural firm that restored the Slaughter ranch house and outbuildings to historical accuracy. She interviewed Adeline Green Parks, Addie's daughter, in the 1980s and read the book that Parks wrote, Stories My Mother Told.
Describing Addie's life from age five to her marriage, Addie Slaughter: The Girl Who Met Geronimo entertains boys as well as girls. The numerous historic photos throughout the 64-page paperback book bring readers face to face with Geronimo, the Slaughter ranch, family members, and keepsakes of that era. Clothing, landscapes, buildings, and a way of life are captured in realistic windows back in time.
"One man said Papa was the 'meanest good man that ever lived,'" Addie tells us. "Willie asked him one time how he got the bad man to give up and Papa said, "I just say real quiet, 'Lay down or be shot down.'" Willie said the way Papa said it, it gave him the shivers!"
Included in the book is a curriculum guide that benefits teachers and parents, and a section on its historical background. It is written for ages 9 to 12 in simple but exciting language.
Addie Slaughter: The Girl Who Met Geronimo costs $15.95 and is published by Five Star Publications, Inc. of Chandler. It can be purchased through BarnesandNoble.com, Amazon.com, Walmart.com, Target.com, indiebound.org, and at FiveStarPublications.com. For more about the book, visit www.AddieSlaughterBook.com. Five Star Publications, Inc., which is in its 26th year of doing business, is reachable at info@FiveStarPublications.com, 480-940-8182, or by visiting FiveStarPublications.com.