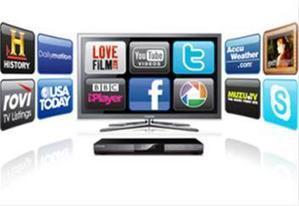 62% of connected TV owners use a second screen, Survey results suggest.
Futuresource Consulting asked 4,000 smart TV owners across the UK, US, France and Germany on their viewing habits and found that 62% of respondents across the markets engage with another screen, such as a laptop, tablet or smartphone while watching TV.
However the report also uncovered that three quarters of respondents use these devices to browse or search online for items that are completely unrelated to what they are viewing on their connected TV.
In terms of what features are the most commonly used on the connected device, the survey found that France records the highest number of those using their device to go online, fetching 71% of the market sample. The UK came second in the metric with 56%.
Across the markets the survey found that social networks were accessed on smart TVs by 40% of the sample community. Twenty four per cent of recipients listened to music via this device and a further 23% used it to browse personal content libraries.
The study pointed out that while many children qualify as early adopters, only 44% of them access the internet via a smartphone, this drops to a fifth when looking at tablets.
The report concluded that "Companies that have realised the importance of content to help develop brand loyalty have been the clear winners".

"Organisations such as Apple, Samsung, Amazon and the like have developed comprehensive content ecosystems, which have been fundamental in helping to lock in consumers and grow market share."
Via
Virginie Colnel