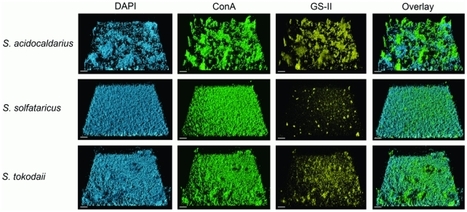 BACKGROUND:
Biofilm formation has been studied in much detail for a variety of bacterial species, as it plays a major role in the pathogenicity of bacteria. However, only limited information is available for the development of archaeal communities that are frequently found in many natural environments.
METHODOLOGY:
We have analyzed biofilm formation in three closely related hyperthermophilic crenarchaeotes: Sulfolobus acidocaldarius, S. solfataricus and S. tokodaii. We established a microtitre plate assay adapted to high temperatures to determine how pH and temperature influence biofilm formation in these organisms. Biofilm analysis by confocal laser scanning microscopy demonstrated that the three strains form very different communities ranging from simple carpet-like structures in S. solfataricus to high density tower-like structures in S. acidocaldarius in static systems. Lectin staining indicated that all three strains produced extracellular polysaccharides containing glucose, galactose, mannose and N-acetylglucosamine once biofilm formation was initiated. While flagella mutants had no phenotype in two days old static biofilms of S. solfataricus, a UV-induced pili deletion mutant showed decreased attachment of cells.
CONCLUSION:
The study gives first insights into formation and development of crenarchaeal biofilms in extreme environments.