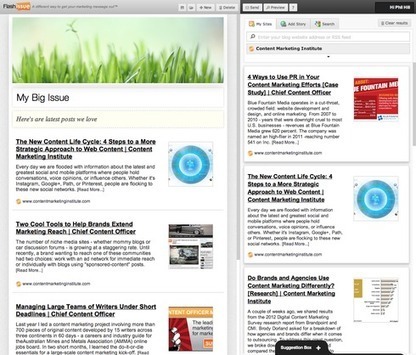 "FlashIssue is the quickest way to create email newsletters from your blog articles and curated content."
That's the claim they make and it's true. I tried this smart little app and had an attractive newsletter made up of the content from my website in minutes.
You simply enter the name of your website, the app fetches the content for you, and you select what you want to include.
Add a title or custom banner and an introduction and voilà - it's ready to send.
You can also curate content from other websites with a clipper.
To send, you can integrate the newsletter with mailing lists from MailChimp, with your Gmail contacts or even upload a list of addresses.
FlashIssue seems to be free at the moment. Give it a try at http://welcome.flashissue.com/beta/
[On my first test, I created a newsletter in four minutes. It looks like a very interesting newsletter, blogging and content marketing tool - JD]
Via
Liz Wilson