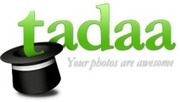 Remember when Instagram announced that it had the right to sell users' photos or use them in advertisements?
...One app making waves in this space is Tadaa. If you haven't yet heard of it, but are a photo fanatic, you should definitely try it out. As with the majority of photo apps, you can alter the photos you take or import by applying selective editing features such as filters and adjustments. Tadaa's Unique Draw…
What sets Tadaa apart, however, is that you can manually apply particular effects with the swipe of your finger. The app also touts other sophisticated features, such as a "tilt shift effect," which lets you customize the orientation, width and degree of blur to your photos. And while you can share your images with other app users and through your social networks, like Instagram, Tadaa offers both HD and real-time photo sharing capabilities....