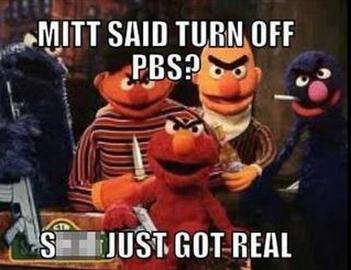 It seems like every politician, pundit and PBS advocate alike has weighed in on the Obama campaign's spoof of Mitt Romney's savage attack on Sesame Street's Big Bird. The Team Obama TV spot has had no fewer than 60 separate...
...airings on different networks around the country. And, PBS, the Switzerland of broadcasting, has asked that the partisan power punch be taken off the airwaves.
Aside from a rather innocuous SNL segment, no one has really stopped to ask Big Bird, Elmo or Oscar the Grouch their feelings about this tempest in a teapot. So Repman's crack editorial team stepped into the lurch and arranged for an exclusive interview with the trio at a local Manhattan bagel shop. (Note: Kermit the Frog was on assignment in the Middle East and Miss Piggy was competing to become a contestant on "The Biggest Loser."...
[Steve Cody rocks in this post ;-) Jeff]