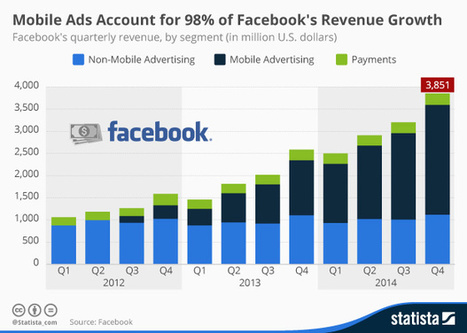 Facebook's strong mobile advertising business helped the social network to report positive results for the fourth quarter of 2014. Revenue was up 49% to $3.85 billion, as the company's profit grew by 34% to $701 million. For the full year, Facebook reported a net profit of $2.94 billion on $12.47 billion in revenue.
When Facebook started selling mobile ads in 2012, not even the keenest optimists could have predicted how big a success they would be for the company. In each of the past seven quarters, mobile ads accounted for more then 90% of Facebook's revenue growth.
In the past three months, mobile advertising sales amounted to almost $2.5 billion. Having doubled since the previous year's holiday quarter, mobile ad revenue now accounts for more than two thirds of Facebook's advertising revenue and 64% of total revenue....