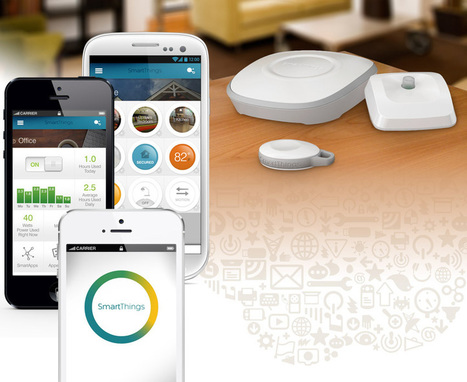 Adventures with a new platform called SmartThings.
Imagine coming home after work. Your door unlocks as it senses you approaching. When you step inside, the lights come on and the thermostat adjusts to the perfect temperature. If you've reached your fitness goals for the day, your TV turns on and a machine pours you a glass of whiskey. If you haven't, your stereo plays "Eye of the Tiger," prompting you to get dressed for the gym. Hours later, when you climb into bed, your door locks automatically and soothing ocean sounds play; when you wake up the next morning, your coffeemaker starts brewing.
This sounds like a Jetsons plot premise, but it's what we've been promised by futurists in Silicon Valley for years. They call it "the Internet of Things" — a system where every object is connected to every other object via the Internet — and until recently, it was a kind of amorphous geek fantasy, reserved in practice for early adopters and the ultrarich. (Bill Gates has had such a system installed in his mansion for years.) For normal people, though, the Internet of Things has been slow to arrive.
So when a company called SmartThings offered to send me a kit that would help me connect all of the devices in my home, I was skeptical. Why would I need this? How would it help me?
But after a week of testing it, I'm convinced the Internet of Things is almost here. And it could be huge....