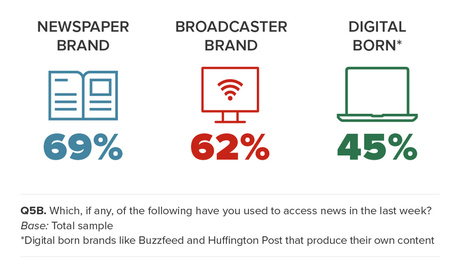 "We really hit a landmark this year," Newman told the audience, highlighting how – for the first time – more than half of the DNR sample now uses social media for news each week. In tracking this trend, we've seen "enormous growth in most markets since 2013," he added.
Key stats:
51% use social media for news each week.
12% say social media is their main news source.
More 18-24s now prefer social media (28%), as a news source, to TV news (24%).
44% of the DNR sample uses Facebook for news each week.
Facebook's news reach is more than double its nearest rival, You Tube (19%), although the video network plays a prominent news role in some countries. Twitter (10%) meanwhile has an impact due to its popularity with heavy news users and influencers....