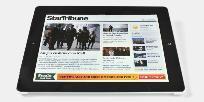 When the time came for Merriam-Webster to pick its top word of 2011, its editors decided they needed to be pragmatic...
So they chose ... pragmatic.
The word, an adjective that means practical and logical, was looked up so often on Merriam-Webster's online dictionary that the publisher says "pragmatic" was the pragmatic choice for its 2011 Word of the Year....
[A little end of year fun - JD]