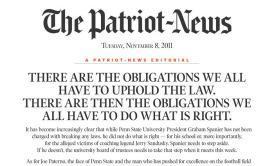 Are Newspapers Becoming More Comfortable "Mixing Fact and Opinion"?
Today, The Patriot-News in Harrisburg, Penn., published a front-page editorial arguing that, on account of the sexual abuse scandal that has recently come to light, Penn State president Graham Spanier must "step aside." Penn State football coach Joe Paterno, the editorial said, should be allowed to finish this season, but his contract should not be renewed. (Paterno may be out of a job sooner than that.)
Running an editorial on the front page is a rare practice in the United States. (It is more common in some other countries, including Italy and France.) "At most large papers, the top news editor and the editorial page editor are peers, each reporting only to the publisher," says Robert Turner, a professor of journalism at Northeastern and one-time deputy editor of the Boston Globe's editorial page. (Turner is also the father of Julia Turner, Slate's deputy editor.) So the decision to run an editorial on the front page will come from the publisher, "possibly over the objections of the news editor."...