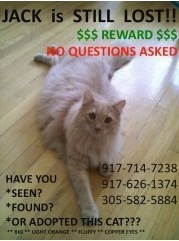 Like most crises, this one was predictable and mostly avoidable. With the volume of passengers and cargo handled by major airlines, missing or damaged luggage is common.
A missing pet should set off crisis management alarm bells all over the place but apparently not at American Airlines.
The story began when Karen Pascoe and her longhair cat Jack arrived at New York's JFK airport for a flight to California six weeks ago. That's when the fur began to fly....