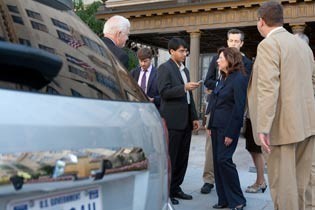 Well, when dealing with the media -- you can but you shouldn't.
Secretary of Labor Hilda Solis was taking part in a media Q&A breakfast on Wednesday when she got what appeared to be an unexpected softball question.
She was questioned about the vehicle she arrived in. Rather than rolling up in a big, black armored limousine, Solis came in a relatively small silver Chevy Equinox.
Hmmm. Not so fast, Secretary...