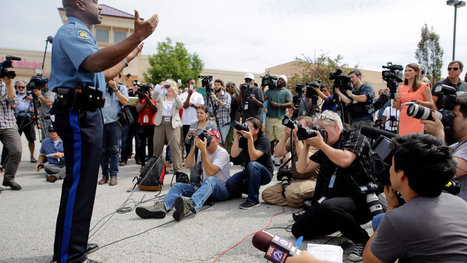 In a situation hostile to traditional reporting, the crowd-sourced, phone-enabled network of information that Twitter provides has proved invaluable.
...News organizations learned about the arrest and harassment of their reporters on Twitter and were able to take steps to get them out of jail. In the meantime, important information continues to flow out of Ferguson. As much as any traditional wire service, Twitter spread the remarkable work of David Carson, a photographer at The St. Louis Post-Dispatch who managed to take pictures despite being pushed around by both the police and the protesters....
There is a visceral quality to Twitter that can bring stories to a boiling point. Ron Mott, an NBC correspondent and a social media skeptic, watched Twitter turn up the heat on Wednesday and tweeted, "As powerful as our press have been through years of our democracy, social media raises temp on public officials like never before."...