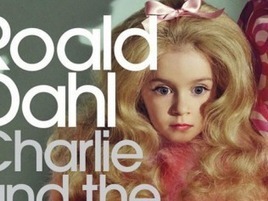 The 50th anniversary publication of Roald Dahl's children's classic Charlie and the Chocolate Factory is leaving a bad taste in some mouths.
Controversy surrounds the cover of the Penguin Modern Classics edition, which eschews Willy Wonka's fanciful factory, golden tickets, Oompa-Loompas and other familiar story elements. Instead, we get a stylized image of a young girl, quaffed to the hilt in colorful bows and silks, sitting in her mother's lap.
Detractors are denouncing the shot for sexualizing kids, and they deride its sleazy '60s vibe as inappropriate for a story geared toward young people. They have a valid point, though in fairness, the broader meaning of the image is open to all sorts of interpretations. (It's not overtly sexual. I mean, we don't see Wonka's willy, thank goodness.)...