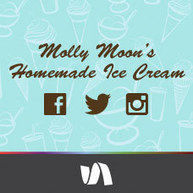 How do we get more people into our stores? It's an age-old question for B2C companies who have brick-and-mortar presences. How do you get people from thinking about your product to coming in your store and buying it?
The good news is, social media is here to help — and not just with bringing in the crowds. Social media allows you to have a deeper and more multi-faceted relationship with your customers than ever before. Don't miss out on that opportunity.
I'm going to use Seattle ice cream purveyor Molly Moon as my model in much of this post. There's always a line at Molly Moon's, especially in the summer but even on rainy Seattle days. That's not because they're slow scoopers – it's because their ice cream is that good and, dare I say, because they use Facebook, Instagram, and Twitter to their best advantage....