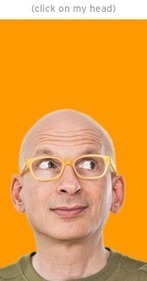 There's a difference between signing on to someone else's project and starting your own. The impresario mindset of initiation and improvisation are at the heart of the project. It's yours, you own it. Might as well do something you're proud of, and something that matters, because it's your gig.
Over time, the project world has changed. Thanks to digital tools, it's cheaper than ever to build and launch something based on content. Distribution is far faster and cheaper as well. We used to need a publishing partner or a partner with a platform (a record label, a media company...) to get the word out; now, in many cases, this adds time and hassle without creating sufficient benefit. Because it's easier to launch, we can spend more time focusing on what the audience wants, as opposed to merely pleasing (and pitching) the middleman. On the other hand, that makes it a lot harder to dig in and create, because there isn't that moment where someone says, "yep, I'll publish it..."
For me, the trick is not to represent the client, or the publisher, or the merchant. The trick is to represent the project, to speak up for the project, to turn it into what it needs to be. And over the years, I've found the each project gets just a little more personal than the one that came before....