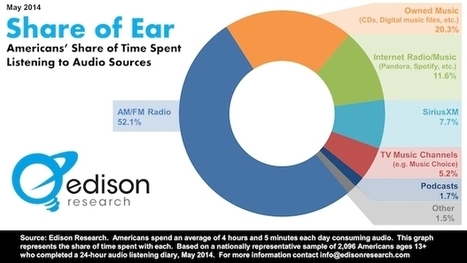 Audio consumption is at its all-time easiest. The technological capabilities we carry in our pockets daily are truly awesome and, increasingly, companies are looking to put more content in our eyes and ears as conveniently as possible.
We're ready for it too. Apple's purchase of Beats is a $3 billion investment in the public's listening habits, as is Amazon's new streaming service, not to mention Sub Pop and other labels' embrace of the Drip.fm digital subscription service.
The evidence is obvious but to move us from the anecdotal to the factual, Edison Research has released a survey to quantify just how much Americans are listening to music. According to their "Share of Ear" study, most U.S. residents listen to roughly four hours and five minutes of audio each day. That's divided between broadcast radio (52 percent); owned music such as downloads, vinyl, CDs, and tapes (20 percent); streaming services such as Beats Music, Spotify, and Pandora (12 percent); satellite radio (8 percent); podcasts (2 percent); and whatever else falls into the "other" category, like audiobooks (2 percent)....