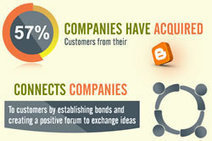 Content marketing often starts with business blogging. This online corporate blogging guide helps you getting started or doing better.
Below are some important elements that determine the success of blogs. They consist of several steps to take and some tips. Don't be frightened by them: blogging is not rocket science but we like to be exhaustive.
Outlining the desired outcomes and defining metrics and KPIs, in correlation with other marketing strategies.

Identifying the target audiences, buyer personas and other stakeholders in a well-documented and customer-centric way.

Mapping the (content) needs wants, preferences and more of target groups over time and preferences. While blogs will typically focus on questions prospective buyers have, there is more than strictly business. It's about emotion and sometimes even about entertainment. Business should not be boring and the same goes for blogs. As long as it's "you", "them" and relevant....