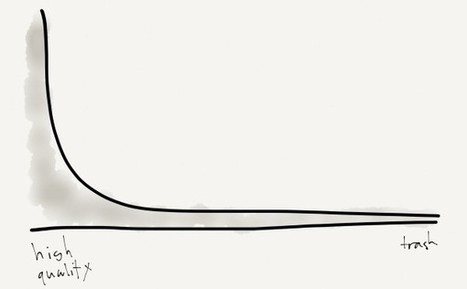 The problem for newspapers is not just advertising, but rather that their readers no longer have to settle for average. Greatness is just a click away.
The implication of my news consumption being dominated by the tall skinny part of the power curve is that those who can regularly appear there – the best of the best – are going to win the zero sum game for my attention. And, for that, they will be justly rewarded.What then, though, of the tens of thousands of journalists who formerly filled the middle of the bell curve? More broadly – and this is the central challenge to society presented by the Internet – what then of the millions of others in all the other industries touched by the Internet who are perfectly average and thus, in an age where the best is only a click away, are simply not needed?
This is the angst that fills those in the news business, and society broadly. The reality of the Internet is that there is no more bell curve; power laws dominate, and the challenge of our time is figuring out what to do with a population distribution that is fundamentally misaligned with Internet economics.