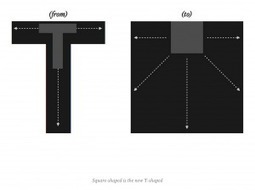 Mike Arauz, one of the many bright strategists at Undercurrent suggests it's time for us (digital strategists especially) to become square-shaped. He claims, "you should just know everything." In a post on Medium , he declares that if you work at the intersection of people, business and technology — I think that would include all of us — you need "an expansive approach to cultivating your expertise."
He offers a list that might be a bit more technical than most of us want to explore, but a look at any of the emerging technologies validates his argument.
Digital printers will soon let us make our own products (eye glass frames, light fixtures, toys), print clothing items (tactile screens that let us feel the material are coming), and prepare dinner (or at least dessert.) If this doesn't change how we market, sell and distribute, it will certainly affect consumers' expectations for customization....