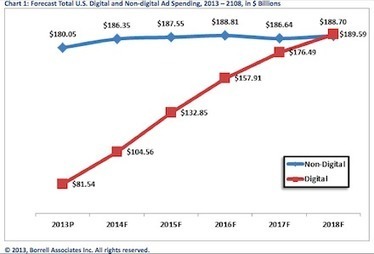 With all the talk of newspapers as dinosaurs, you might be surprised to know that they will close 2013 retaining their position as the leader among legacy platforms in share of digital advertising revenue, according to Borrell Associates' annual review and forecast.
But as Borrell looks ahead, the industry's digital ad prospects are alarmingly weak. By 2018, the consulting firm predicts, newspapers share of all digital advertising will fall by more than half — from 7.1 percent in 2013 to 3.3 percent in 2018.
To be clear, Borrell is NOT saying that the industry's current digital ad revenues — about $3.5 billion for dailies, $5.8 billion for all newspapers — is going to fall by half. In fact, the firm forecasts growth, though at a modest pace of 1.8 percent a year...