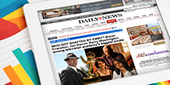 News media companies are not bringing in enough digital advertising revenue because too little of their audience engagement is digital. Is an international industry research project the answer?
According to comScore, in the United States, 62% of digital users visit newspaper Web sites, yet newspapers account for only 8% of total visits, 1.7% of time spent, and 1.5% of pages visited. One has to ask why a medium that is so rich in content enjoys so little traction....
The consequence of this fact is reflected in our industry's financial reality. It is no coincidence that globally the KPIs of engagement online — visit frequency times pages viewed times time per page — are 5% of those in print, and digital revenues are typically around 5% of print.So why are newspapers deriving so little revenue from digital advertising? Because they are deriving too little of their audience engagement in the digital space. The correlations are indisputable.In part, this is because of a historical defensiveness. But in reality, today, it is because we are not confronting what the analytics could be telling us. Hence the recruiting drive.Solve the audience conundrum and we solve everything...