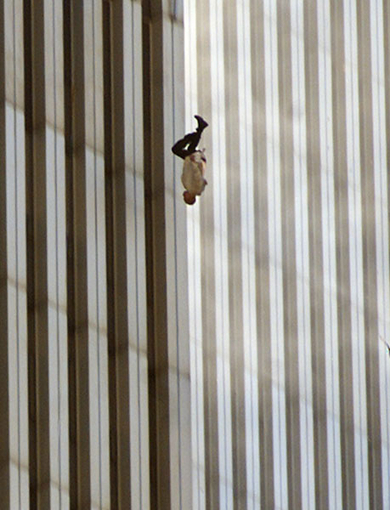 The events of 9/11 remain the most photographed in history. It's from out of that mass witness and record that one image, the 9/11 photograph that still hardly anyone has ever seen, seemed to challenge our deepest notions of not only what it meant to die – and eventually be partially reconstructed – in the new data age, but what confronting death, as witnesses or consumers of information, said about ourselves as witnesses or consumers of information. Making it all the more arresting, perhaps, was its stark, almost calm anonymity.
Nobody had a clue as to who the photo's subject, seen plummeting from the very top of the North Tower, could be. Countless newspapers and wires ran the image the following morning, but almost immediately got so much shit from readers that for most outlets there became no other option but to pull the photo. Eleven years on, the Falling Man is still suspended. A version of this piece originally ran on September 11, 2011.
The Falling Man's descent into eternity lasted about 10 seconds....