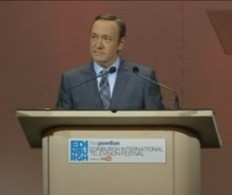 Kevin Spacey's comments about the Netflix release of "House of Cards" contains a road map for brand storytelling worthy of global enterprise brands.
...In the video, Spacey himself speaks to the potential benefits of this innovative distribution strategy, proclaiming, "Give them [the audience] what they want, when the want it, in the form they want it in…"
The success of House of Cards (as well as that of the latest Netflix series to be released en-masse, Orange is the New Black) proves that this distribution model can work. But how might it apply to content marketing, which operates in vastly different ways than the business of television? And, more specifically, how might a nontraditional release schedule like this impact corporate storytelling?
Here are some key insights, derived directly from the words of Kevin Spacey, that all content marketers need to take to heart...