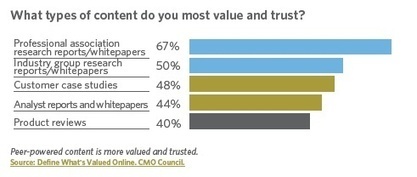 As B2B marketers, we know that online content plays a critical role in B2B purchase decisions. In an increasingly cluttered and competitive marketplace, the right content can help B2B buyers make more informed decisions about the products and services they need and the companies best suited to provide those solutions.
A recent report from the CMO Council, which examined the current state of B2B content marketing, found that a whopping 87 percent of B2B content seekers believe online content has either "a major or moderate impact on vendor preference and selection."
Not too surprising then that the report also found B2B firms are spending over 25 percent of their marketing budgets on the development, delivery and promotion of content to drive business leads. Marketers are becoming publishers, striving to create content-driven marketing programs that build brand awareness and fuel sales efforts.
Yet, despite increased spending on content marketing, the CMO Council found that too many companies are still engaging in "random acts of content development," implementing programs that lack a cohesive strategy and often fail to provide buyers with engaging, consultative and relevant information....