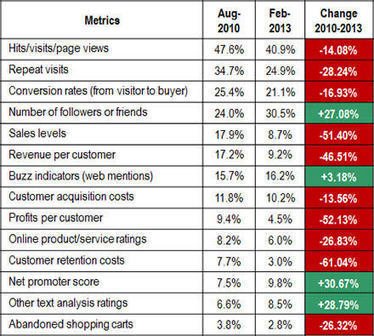 Valuable measurement perspectives and advice. The influential economist Albert O. Hirschman argues that customers can have a disciplining effect on companies and markets through their exit and voice behaviors. Instead of simply "quitting" a product, Hirschman urged customers to voice their complaints so companies could improve and learn. Hirschman would be a happy camper these days because social media puts a megaphone on the voice of the customer.
Results from The CMO Survey® show that companies, in turn, are also starting to see the value of emphasizing voice-based metrics. The CMO Survey® investigated which metrics companies are using to measure the impact of social media investments. In August 2010 and then again in February 2013, top marketers were asked to share which metrics they use to evaluate social media.
Looking across the results, we can see which metrics companies most often use. The survey did not, however, ask respondents to rank or rate each metric in terms of importance....