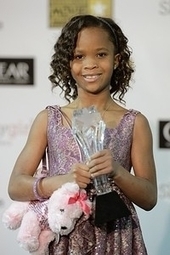 As you've probably heard by now, what The Onion is apologizing for is a tweet sent during the Academy Awards about the nine-year-old star of "Beasts of the Southern Wild."
... "Miss Wallis, you are young and talented and deserve better," Onion CEO Steve Hannah wrote, vowing to "take immediate steps to discipline those responsible." It's the first time anyone can remember that The Onion has apologized for a joke that offended, and not for want of opportunity.
If The Onion has a rule that children are exempt from outré humor, it must not have been in place when it published "Fun Toy Banned Because Of Three Stupid Dead Kids," "God Answers Prayers Of Paralyzed Little Boy; 'No,' Says God," "Ex-Pedophiles Share Tips On How To Make Your Kids Less Attractive," or "Pope Vows To Get Church Pedophilia Down To Acceptable Levels." Or, to cite a few that riff on real children, this one about Alana "Honey Boo Boo" Thompson, or this one about Suri Cruise, or this other one about Suri Cruise, or this one about JonBenet Ramsey....