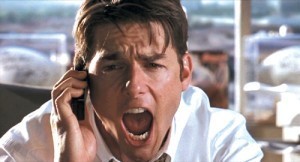 It's not easy to measure PR efforts, particularly when it's been all about credibility and awareness in the past. Use these tools to track real results....
... Our goal, of course, is to use content to get people into the free trial. From there, they know exactly how far through the trial a person has to go before they become a customer and their email marketing helps motivate them to that level.
We measure PR in a few ways:
- Organic search increases
- Unique visitors to the website
- Unique visitors to the blog
- Top of the funnel leads
- Free trial landing page visits
- Free trial users
- Trials converted to customers
- Monthly recurring revenue (subscription-based)
- New revenue All of this data can be found by combining analytics, Hubspot, and Mailchimp into a spreadsheet we review weekly.
We do not track Facebook fans, Twitter followers, YouTube viewers, or Klout scores. These are both soft and hard metrics, but they lead to the ultimate goal: More customers. In this example, we know exactly how many people we need to get to the free trial landing page – through content – in order to get them to take it and then what kinds of content – through email – we need to send them so they'll convert to a customer....