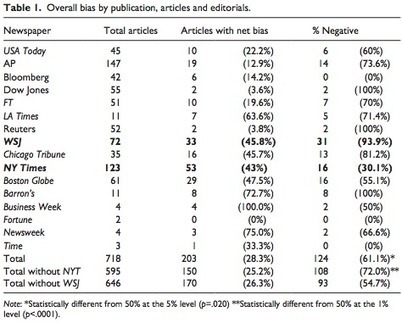 Schiffrin and Fagan quantify weaknesses in coverage of the stimulus...
Does the mainstream press do a good job covering major economic stories, like, say the stimulus back in the 9th century 2009? I doubt that, too, but Anya Schiffrin and Ryan Fagan provide a more authoritative answer: No. Or at least it was passive in the extreme, excessively reliant on government sources, fixated on the politics over the substance, and, yes, biased, but not perhaps in the way you'd expect. And they have numbers to back up these claims made, to be sure, in academese.
(A bit of disclosure: I read an early draft of the paper and made some comments on it.) They categorized 718 stories (this is exhausting work, believe me) and coded them according to what kinds of sources (Wall Street, academic, government) the stories quoted; whether the stories discussed substance or just the politics, and whether the articles conveyed a bias one way or another, among other things....