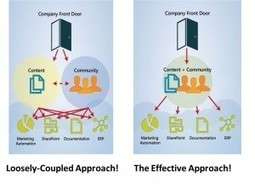 Many marketers today are looking to increase their Facebook fans, LinkedIn memberships and/or Twitter followers. Social media marketing is a new buzz-word in both b2b and b2c domains.
But, when it comes to engagement, how easy is it to measure the engagement-level of your Facebook fans or LinkedIn Group Members? How easy is it to interact with them and nurture them? How easy is it to get usage and engagement metrics out of Facebook, LinkedIn et al? Is it even possible? Can you act on the metrics?
External social sites are good for brand-building (or reach) but not for interaction or engagement. A recent Gartner report cited that a mere six percent of marketers claim that marketing on social networking sites is their top priority. What is even more powerful is that 45 percent of those surveyed said corporate websites were key contributors to marketing success. And from the customer perspective, four out of five customers claim to visit a website for product information and only a mere 19 percent would visit a Facebook page, according to Incyte Group....