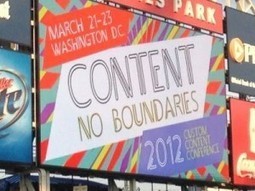 Content marketing is now a nearly $44 billion industry. The exact amount ($43.9 billion) represents a 9.2 percent increase over last year and is the second highest amount on record, according to Custom Content Council's "Characteristics Study: A Look at the Volume and Type of Content Marketing in America for 2013."
The study considers all forms of content marketing, including campaigns that focus on print, web, email, video, virtual events, white papers, podcasts and e-Zines. As a whole, these outlets make up 39 percent of overall marketing, advertising and communications budgets.
And while print still garners the largest share of dollars in the budget, digital, unsurprisingly, is the fastest growing segment of content. In fact, 81 percent of respondents to the survey said they are creating content explicitly for social media, making social content the most frequently used type. Also unsurprisingly, digital content, including web updates, social content and SEO content, is growing consistently with 40 to 44 percent of respondents saying they expect to increase output in these categories.
Overall, what the new numbers tell us is that brands' priorities should lie in creating custom content, and that the form of distribution for that content is slightly less important. However, the study shows that it is also clear from the growing amount of digital content that funds previously spent on print are being shifted to online social and video content....