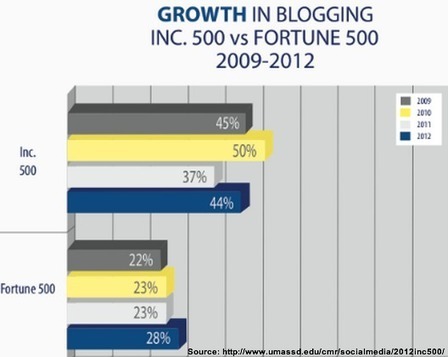 Represented by the Inc 500, the highest growth small businesses get content marketing as a means to expand their reach and increase profitable sales when compared to their larger, more established Fortune 500 counterparts.
These small business (SMB) organizations must be leaner and more effective at maximizing each aspect of their marketing mix to compete with larger, more complex firms. Content marketing helps them build trust by offering the type of promotion-free information their customers actively seek during the purchase process.
The University of Massachusetts Dartmouth research, entitled "2012 Inc 500 Social Media Settles In" reveals that Inc 500 companies continue to blog at greater rates than their Fortune 500 peers. In 2012, 44% of the Inc 500 had a corporate blog, an increase of 7% from 2011. By contrast, 28% of the Fortune 500 had a blog in 2012. While this is an increase of 5% from 2011, the Fortune 500's blogging rate still lags that of the Inc 500....